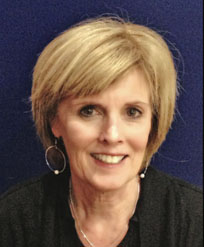 Vicki Cason Bollinger
Inducted 2015
Sharp-shooting Vicki Cason was "dead-eye" accurate from any given spot on the oor at Waycross High School. In 1969-70, her senior season, she helped carry the Bulldogettes to the brink of a state championship.
In the state semifinal round against Wheeler County, she scored 31 points as Waycross advanced to the title game. But Waycross had the poor fortune of going up against a team of destiny in the finals against the undefeated Berrien County Rebelettes. Waycross lost 37-32 as Berrien put the finishing touches on a 30-0 record that season of 1970.
Vicki and her Waycross teammates turned in their own sparkling 23-4 record. Vicki made the All-State Tournament team.
She also was a standout on the varsity tennis team at Waycross. She was a ne citizen at Waycross High, too, serving as student council vice president and secretary. She was on the homecoming court as a sophomore and senior. The Tri-Hi-Y Club president, she also won the DAR Citizenship Award in 1970.
During her college years, she was a nationally ranked volleyball official. She owns degrees (including two masters) from the universities of Georgia, Tennessee and South Florida.
Vicki Cason Bollinger today lives and works in Tampa, Fla. where she is a media tech specialist with the Hillsborough County Public Schools. For a large part of her career as an educator, she taught in the classroom and twice was voted Teacher of the Year.