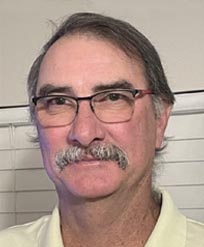 Troy Taylor
Inducted 2023
Troy Taylor was a basketball phenomenon at Ware County High School in the mid-1970s. While he also played baseball, it was on the basketball court where he found his greatest success. Taylor was a member of the winning teams coached by John Pike that captured championships and made deep tournament runs.
Taylor's height helped to make his presence felt on the basketball court. Playing at 6'9" his senior season, he was a challenge to guard inside. On defense, few could drive the lane on him. Troy's offensive and defensive play was a big reason Ware reeled off 16 wins against three losses during his junior season. But it was during his senior basketball season that this big man became the standout for the Gators. In their 1978 rematch upset win over defending Region Champion Appling County, Taylor put up 28 points and grabbed 18 rebounds. Following the game, Coach John Pike said of Taylor, "Troy played his finest game of the season tonight." The fans who packed out the Gator Den for that game could only agree with the coach as they were treated to an absolute heart-stopping show of great basketball from Taylor and the Gator team. His play this night along with his performances throughout this senior campaign earned him numerous team and individual honors.
Troy finished his senior season averaging 17 points per game while shooting an impressive 54% from the field and 60% from the free throw line. This kind of play earned Taylor many awards and honors. He was a McDonald's All-American and named to the Basketball Weekly All-Star Team, All-Georgia Team, Atlanta Constitution Prep Honor Roll, and Waycross Journal-Herald All-Area Team. He was Ware's Most Valuable Player in his 1978 senior season.
After his high school senior season, the colleges came calling, and Troy signed a full scholarship to play basketball for South Alabama University. While working through some early injuries that hampered his play over the years, Taylor contributed to South Alabama's success both on offensive and defensive. His 1978-1979 South Alabama team was one of the best as it made it to the second round of the NCAA Tournament.
Both his high school and college experiences prepared Taylor for a wonderful personal and successful professional life. Following an outstanding career in the railroad industry, he retired from Florida East Coast Railroad. Troy and his wife Cindy Cox Taylor reside in St. Augustine, FL. They have two children and five grandchildren. Their son Mark and his wife Sarah are the parents of Grayson and Maris. And their daughter Christina Taylor Dowler and her husband Jeremy are the parents of Makinley, Maddux, and Maverick.