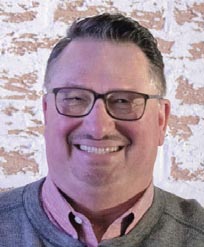 Travis Peavy, Jr.
Inducted 2023
Graduating in 1980, Travis Peavy ended the decade of the 1970s as a super star four-sport athlete at Ware County High School excelling in football, basketball, baseball, and track. He was part of the championship runs under Head Football Coach Bruce Bennett and Head Basketball Coach John Pike. His sheer size, speed, and playmaking ability brought fans to their feet on many occasions as he etched his name into the school record books and earned region and state recognition.
Peavy helped his 1978 football Gators win sub-region and region titles advancing through the playoff before losing in the semi-final game to eventual AAA State Champion Westminster HS. Travis was named to the All-Region defensive team that year leading the region with 6 interceptions. During his 1979 season, he led the Gators with 723 receiving yards, 7 touchdowns, for an average of 23 yards per catch. His longest receptions for touchdowns were 99, 93, 69, and 63 yards. This performance earned him the Most Outstanding Player Award and Honorable Mention All-State.
His accomplishments on the football field were equaled by his performance on the basketball court as a 3-year letterman. He ended his career at Ware averaging 18.3 points a game. He added to that scoring spree a career-high 4 triple-doubles. This kind of play earned him many personal and team awards. He was named First Team All-Region in both his junior and senior seasons,1978-79 and 1970-80. He was also voted First Team Okefenokee All-Area for back-to-back years. Winning the Most Valuable Player Award for both his junior and senior seasons put an exclamation point to his stellar high school basketball career.
Peavy also played baseball for two years at Ware playing both in the infield and outfield. His size gave him both range defensively and made him a very clutch hitter at the plate. On the track team, he ran the 220 and a leg on the Gators 440-relay team. He placed in the 220-yard event at both sub-region and region meets.
Travis had college basketball and football scholarship offers coming out of WCHS in 1980. But he would ultimately choose football. He played football on a full scholarship for the Furman University Paladins lettering as a freshman. He was part of the Furman team that captured the 1980 Southern Conference Championship. Peavy recalls his first college game against the nationally ranked University of North Carolina and as a backup TE as he was asked to block future NFL Hall of Fame LB Lawrence Taylor.
Peavy's memory of that task was what one would expect…an awful memory. But his determination to get better made for many outstanding games during his college play. Peavy took his studies seriously. Both his dedication to his studies and his love for God prepared him for a life in the ministry. Travis is the Lead-Pastor at the Alma Church of God. He and his wife Sherry Ross Peavy have two children and five grandchildren. Son, Matthew, and his wife Whitney Peavy are the parents of Taya, Deklan, and Georgia. Daughter Kristian Spell and her husband Sidney are the parents of Ila and Walker. Called to ministry at an early age, Travis has been a pastor since 1983.