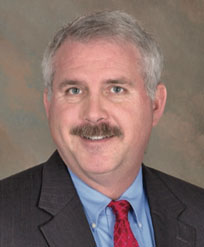 Tony Tanner
Inducted 2017
Ware County High School rolled almost all the way through the state playoffs in 1978 behind the quarterbacking of Tony Tanner.
Tanner, a three-year starter who Coach Bruce Bennett would equate to being "like a coach on the field," was at the controls as Ware set school records for scoring (341 points), touchdowns (51), yards rushing (3,343) and total yards (4,416). The Gators averaged 339.7 yards a game. Ware went 10-3, the best season in program history at that point, losing in the state semifinals to Westminster. A junior, Tanner had a great support cast that included All-American running back Tim McCray. Tanner's passing game was the ideal complement to the McCray-led rush attack. In only 65 attempts, Tanner's passing accrued 563 yards and 11 TDs. He also ran 91 times for 506 yards and four more scores. On defense at safety, Tanner piled up 30 tackles to go with a pass interception and a fumble recovery.
The following season there was a drop-off in talent, but Tanner nearly led Ware to the playoffs. In a 30-28 road win over Early County in Week 9, he came within two yards of David Moore's school single game passing record (226 yards). Tanner and Travis Peavy did hook up to secure another Ware High program record, one that seems fairly secure for all time. Tanner's pass play to Peavy covered 99 and 2/3 yards versus Bradwell Institute. The Region 1-AAA passing leader as a senior, Tanner was second team all-region. He played in the Georgia Coaches All- Star game as a defensive back.
Tanner was an accomplished athlete in Ware's other sports, including basketball and baseball. He stood out on the mound and in the batter's box. In his last three seasons, he hit .386, .371 and .312. Tanner became the first Gator to wrestle for a region championship in his weight class, making the state wrestling tournament field. He won the Most Improved Wrestler trophy. In the spring of 1980, the Ware senior won the David Earl Jeffords Award for athletic ability and character.
As a preferred walk-on at Chattanooga, Tanner played one year of football before transfer- ring to South Georgia College at Douglas where he was an effective baseball pitcher, both as a starter and in relief.