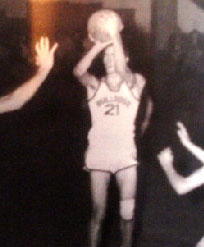 Tommy Dial
Inducted 2004
Tommy showed early promise of greatness at Crawford Street elementary school in three sports; basketball, football and baseball. He gave up football for track in high school. He was a three year letterman in track winning the region championship in the high jump and finishing as the runner-up at the state meet. He was the first WHS athlete to clear 6 feet in the high jump.
He lettered three years for Andy Cuneo's baseball squad as a pitcher and first baseman but his forte was basketball where he earned four varsity letters for coach J.T. Hart. He was the linchpin of the 1962 Waycross High School Bulldog basketball team. They finished the regular season undefeated but later lost to the eventual state champions in the playoffs. Their 19-1 won-lost chart was a Waycross record at that time. He won All-State honors in 1962 and played in the North-South All Star game in Atlanta.
Receiving national All-American honors he was awarded a scholarship to ABAC. At Abraham Baldwin, Tommy was All-State for two years. They won the state junior college championship in 1964 and Tommy was the tourney MVP. That year he received All-State, All-District and All-American honors from the National Junior College Association.
After two years at ABAC he went to Georgia Southern on a basketball scholarship. Georgia Southern was NAIA region champs both years and the NAIA National Champion runner-Up at Kansas City, Kansas in 1966. He was coached by the famous J. B. Scearce.
Tommy had an impressive coaching career at Carterville, Georgia High School from 1967-1974. In basketball his teams were region champs every year and the girls varsity team won 100+ games in five years. He took both his tennis and golf teams to the state tournament.
Tommy went in to private business for himself in 1974. He and his wife Janice have two children.