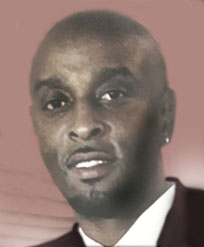 Todd Hill
Inducted 2014
A standout basketball athlete at Waycross High School 1985-1989, Todd Hill became known for his leadership, his high-flying slam dunks and his never-say-die attitude that helped lead Coach E.B. Price's Bulldogs to the state tournament his senior season.
As a senior, he was elected team captain and was named the Journal-Herald Okefenokee Area Player of the Year (averaging 22 points, 12 rebounds and 7 assists per game). He made the Georgia Athletic Coaches Association All-State team and represented the South team in the all-star game at the University of Georgia. The Journal-Herald ranked Hill among the top 15 players in the area his junior and senior years on the All-Okefenokee Area Big 15 team.
Considered one of the top 10 seniors coming out of the state of Georgia, Hill was recruited by the University Of Southwestern Louisiana. He was the Sunbelt Conference Freshman of the Year and was named to ESPN's Top 20 collegiate freshmen. As a junior he was the Sunbelt Conference Tournament MVP and led his team to a first-round win in the NCAA tournament. His senior year for the Ragin' Cajuns was marked by his surpassing the 1,000-point barrier and he was an All-Sunbelt Conference first team selection.
Hill went on to play professional ball for the L.A. Clippers, the Seattle SuperSonics and in Europe, South America and the Caribbean before sustaining a career-ending injury in 1998.