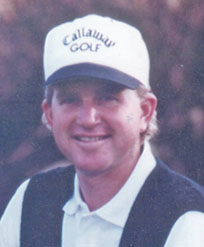 Taylor Smith
Inducted 2017
Taylor Smith (deceased) won his first junior tournament at the age of 6. From there, destiny beckoned. His love for golf and his God-given talents carried him all the way to the PGA Tour. He played in his first PGA event at age 20.
The highest achieving golfer ever to come from Waycross won the 1992 Permian Basin Open (on the Web.com Tour as it is now known) before qualifying 21st in the 1995 PGA Tour Qualifying Tournament. His high-water year on the Tour was 1996. He racked up multiple top 5 finishes including placing second and third. He was best known by his fellow touring pros for his easy manner and friendly ways. He befriended many, including caddies and young people. After scoring a hole-in-one in the New Orleans Open, his impromptu grace was on display. As the ace shot found the cup, Smith turned to the gallery surrounding the tee box and gave his club to a surprised young spectator.
Lettering four years at Southwood School in soccer, basketball and golf, Smith played at age 14 in the locally esteemed amateur event, the Okefenokee Invitational, finishing second. He played collegiality at Augusta State earning Big South Conference individual champion honors as a freshman. Smith competed in two U.S. Amateur Championships prior to turning pro in 1987 (and he won his first pro tournament that very week).
The father of two beautiful daughters, Patreece and Layton, Smith passed away unexpectedly in Houston, Texas July 21, 2007.