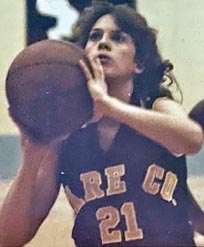 Talethia (Tee) Dixon Martin
Inducted 2023
Talethia Dixon was a three-sport athlete during the late 1970s and early 1980s. She played basketball, ran track and cross country for Ware County High School. In addition to her athletic endeavors, Tee loved music and made the unusual cross over from athletics to also become a member of the Golden Gator Band.
But it was at an early age, it became clear to many that
Dixon was destined to become a great basketball player. Her mother the late Gilda Dixon coached her in the early years, teaching her the skills that would carry her through basketball and life.
Her recreation league coach the late Alton Harper wrote, "Tee is the most outstanding player I have ever had the opportunity of working with." Dixon was named to the GRPS All-State Teams in 1976 & 1978. She was the MVP of the 1978 state tournament averaging some 29.8 points in state tournament play.
Tee hit high school ready to play with the best and that she did. She was a member of the Lady Gators all four years in high school averaging 7 points per game as a freshman. By the end of her 1980 season, this Lady Gator was named to the Okefenokee All-Area Big 15. The scoring leader for the Ware Varsity team averaged 10 points per game. In 1981 she again made Okefenokee All-Area leading the Lady Gators with a 14-point per game average. She has named the team MVP.
But it was Tee's senior year that took her to even greater heights. She finished her 1982 final season year averaging 17 points a game, along with 4 steals, and 3 assist. The honors followed as she was named the Most Valuable Offensive Player, WJH All Sub-Region top 5, Okefenokee Big 15.
Basketball was not the only sport Dixon played at WCHS as she excelled in both track and cross country. She received Ware's Most Valuable Girls Track Award and earned the Cross-Country MVP Award. She placed second in the Sub-Region and Region Track Meets in the one-mile event and ran the two-mile at the State Track Meet.
After graduating in 1982, Tee earned a basketball scholarship to Armstrong State College where she was a star setting many records along the way. Her defensive performance matched her offensive play often leading the team in steals, plus averaging 14 points per game through her college career. She remained on the ASC steal leader board for more than 20 years.
Talethia Dixon Martin resides in Waycross with her husband Michael John Martin. Her daughter is Alexandria Renee' Weekley. Tee has been a practicing Attorney for some 33 years. Currently she is serving as the Assistant District Attorney for the Waycross Judicial Circuit. She has been admitted to the Georgia Superior Court, Georgia Court of Appeals, Georgia Supreme Court, Middle & Southern District Court of Georgia.