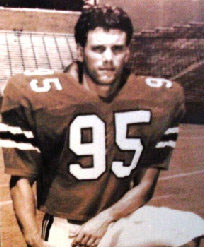 Steve Stipe
Inducted 2006
Steve was the eldest of five brothers to play football at Waycross High School. He was a member of the last Bulldog team to win a state championship.
As a sophomore, he was a varsity player on the 1979 team that recorded 11 straight victories before losing in the playoffs. He was a starting linebacker on the 1980 and 1981 squads that were also playoff teams. The 1981 club posted a 14-1 record en route to the state class AAA title.
The 1989 team won 9 and lot 2. The Bulldogs had a composite record of 34 wins and 4 losses while Steve was playing.
He and Phillip Smith formed one of the very best linebacking duos in Waycross history.
The Bulldogs march to the state championship was an incredible journey. A stingy defense allowed 10 opponents only 64 points in the regular season. To begin the playoffs they beat Worth County 28-0. Next came number one ranked Cairo who fell 34-7. Then a strong Swainsboro club lost 38-6. A defensive struggle took place at Cordele as the Dogs prevailed 13-7.
The Columbia Eagles with several Division I college prospects proved the opposition for the state championship game. They were held without a first down in the first half and succumbed to Waycross 46-13.
Steve was a pre-season Super 11 nominee in 1981. He was the defensive captain that year and played for the South in the 1982 North-South All Star game.
Earning a scholarship to Florida he was a three year letterman as an outside linebacker. Steve was on the 1982 Bluebonnet and 1983 Gator Bowl teams. His coaches named him game captain four times in his Florida career and he was Player of the Week against Syracuse in 1984.
Steve is the son of Jeanette Stipe and Dan Stipe. He is married to Delores Pirckle Stipe and they have two children.