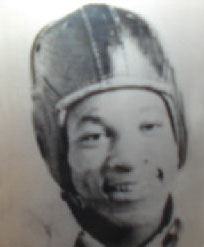 Steve Daniels
Inducted 1987
He was one of Center High's most outstanding football players, winning MVP titles three straight years. He rushed for more than 4,800 yards in those three seasons. He led the team in tackles as a freshman in 1946 before switching to the offensive backfield.
Steve was an All-Conference and an All-American running back for Morris Brown College where he earned a B.S. and Masters Degree. He led the nation in scoring 400 points and gained 1,400 yards during his sophomore year when Morris Brown won a national title.
He played service football while serving in the U.S. Army. Steve began his high school coaching career at Woodbine in 1954 and coached for 31 years at five different schools, winning state Class B football crowns for two consecutive years while at Elm Street High in Rockmart.
He took Sylvan High (Atlanta) girls basketball team to six state tournaments and won numerous "coach of the year" awards. He officiated High School and college athletic contests for three decades.
He was an assistant principal at Mays High in Atlanta.