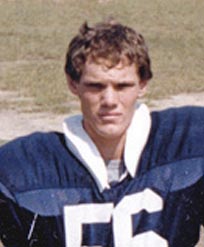 Stan Stipe
Inducted 2020
Meet Stan Stipe, athlete, the portrait of courage, tenacity, endurance, and grit. To many who have followed local sports, he needs no introduction.
The second eldest son in a family of five athletic brothers, Stan played football, basketball, and golf at Waycross High in the early 1980s, winning three letters a year. Best described as a journeyman football player in high school, he would go on to earn two National Championship rings as one of Erk Russell's Georgia Southern Eagles, where he was known as college football's smallest offensive lineman at 170 pounds.
Although Stan broke his ankle playing football in the ninth grade and endured two surgeries (in 9th and 11th grades), he never missed a practice or a game. (His surgeries were in the offseason.)
He played other sports, but football was his true passion, and Stan was known for being a team player at the expense of any individual glory. "He played for the love of the game," said his older brother and teammate, Steve. The brothers were members of Dale Williams' 1981 football state champions at Waycross High. Offensive line coach Joe Haluski was Stan's position coach.
In 1984, Stan Stipe walked on to the Georgia Southern football team, where he would become renowned as the team's snapper for punts and placement kicks. He targeted special teams as a personnel grouping, for he thought he would have the best chance there to excel.
For four seasons from 1984 – 1987, he was the starting snapper in spite of his slender frame (5-foot-10, 170lbs). Coach Russell demanded excellence. Stipe passed the audition, getting hit by defensive players far bigger than he was yet always delivering snaps that were straight, hard, fast, and accurate. His was key to GSU's national championships during his sophomore and junior seasons.
In his four-year career, the Eagles won 13 games by seven points or less, meaning Stipe was snapping in a pressure cooker, often with the outcome of the game on the line. He snapped to holder Pat Parker for kicker Tim Foley's NCAA record 63-yard field goal in a 1987 win over No. 3 James Madison University. Foley was a consensus All-American kicker who set the Division I-AA record for consecutive field goals made (19), and Stipe was the snapper on each kick.
Jennie and Stan Stipe (who were high school sweethearts) have four children, Jake 27, Jada 25, Jared 22, and Jessica 20. He coached Jake's and Jared's Cal Ripken Baseball teams, taking both teams to Cooperstown for the ultimate 12U baseball experience.
In construction for a 28-year career, Stipe became owner/president of Stipe Construction.
He was diagnosed with early-onset Alzheimer's Disease in 2016 and has waged a gallant war against the illness since then. Stipe participated in four Alzheimer's Walks from 2016 through 2019, raising more than $5,000 each year to benefit research in view of a cure.
"Stan has never shied away from talking about dementia and is battling with the same toughness, tenacity, and grit he exemplified on the football field," said brother Steve.