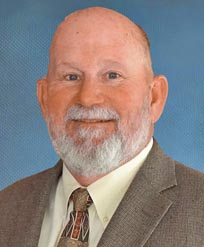 Shelton L. "Cricket" Mobley, Jr.
Inducted 2022
Cricket Mobley was a multi-sport athlete at Ware County High School from 1973 – 1977. He simply played it all…basketball, baseball, football, and golf. And he excelled at each one of them, but then that is exactly what pure athletes like Cricket do. They make the difficult look easy, and they perform with such precision. That defines Cricket Mobley's performance. Throughout his high school career, Mobley earned varsity letters in basketball, baseball, golf, and football. He performed equally well in the classroom and was named Scholar-Athlete.
But it was in football where he may have been the most feared by the opposing teams. He was an anchor-style linebacker. When this linebacker planted his feet, he held the ground. Cricket was a starting LB in the hay-day of Coach Bruce Bennett's Gator teams. During his senior season, Mobley was named Ware's Most Outstanding Defensive Player and first-team All-Region Linebacker. His coaches recognized his athleticism as he was named Most Outstanding Athlete in 1977.
When remembering a big moment during his senior football season, Cricket recalled winning the 1976 Region Championship in Douglas against Georgia's number one ranked Coffee County High School Trojans.
On a cold drizzly night, Ware came from behind to defeat the highly ranked Trojans by a score of 21-20 to claim the Region Championship. What was it about that night that has stayed all these years with this remarkable player? Cricket attributes his memory of that night to the journey his Gators took after an opening loss in game one to these same Trojans by a lopsided score of 40 – 6. Cricket, like his teammates, kept their heads up, went back to work, took one game at a time, and refused to look backward. And that determination set the tone for the remainder of the season as the rematch victory propelled Mobley and the 1976 team into the history books of Ware Gator Football.
Cricket also played baseball earning three high school letters. His skill, poise, power, and arm placed him among the elite in all high school baseball. Mobley posted a 20-7 record on the mound as a Gator with an average of .413 at the plate his senior season. This kind of play earned him many diamond honors including the 1975 Phillips 66 All-Tournament Team, 1975-76 Outstanding Pitcher, 1977 Most Valuable Player, and a place on the All-Region team.
Mobley played high school golf often leading the team in region play. Golf has remained a significant part of his adult life as he continued to play in golf tournaments throughout the Okefenokee and Brunswick areas.
After graduating from WCHS in 1977, Cricket played two seasons of college baseball at Georgia College and Maryville College. Baseball continues to be part of his life as he works as a pro scout in this area for major league baseball clubs.
Cricket and his wife Sharon reside in the Darien area where he runs a successful retail marina store and distribution company. Through the years, he has produced television shows highlighting sporting opportunities around the Southeast. They are proud parents of two sons and two grandsons…Shelton L (Cason) Mobley, III, his wife Adrienne and son Cash; and William Caleb Mobley, his wife Logan and son Banks. On this special night Cricket remembers his parents the late Shelton L. (Skeet) Mobley and Jeanette Cason Mobley for their loving support of his athletic pursuits.