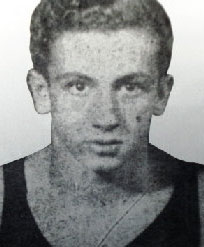 Sammy Buchannan
Inducted 1987
There were few athletes that made an impact equal that of the late Sammy Buchannan. He was a Waycross Boxer bound for national recognition when he lost his life in the ring on July 16, 1930.
He was an excellent all around athlete. His best sports were boxing, swimming and diving. His death came as the 20 year old was beginning to attract national attention. After the seventh round of a Dayton, Kentucky bout with another world welterweight aspirant, Jimmy Neal, Buchanan collapsed and died in the ring. The character and spirit of competition he displayed made him extremely popular with fans and opponents alike. Several months before his untimely death he had defeated an opponent in a Florida "winner take all" bout and after the contest he told his opponent, "You fought as hard as I did and deserve half of it" and split the purse with him.
He entered the ring for his first professional fight on March 4, 1927 managed by Pat Boynton of Waycross. Twice during his short career, he came back from broken jaw injuries.
He knew few peers in the sport of diving and swimming. Shortly before his death, he won a Sea Island diving match over an Olympic champion.
He rests in Lott Cemetery. The late Liston Elkins, in a Journal-Herald obituary tribute, noted that the funeral procession was the longest Waycross had seen.