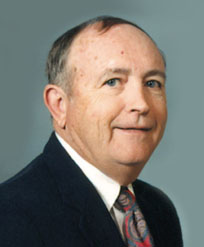 Richard Young
Inducted 2016
Waycross High was blessed through the years of its existence with competent and talented coaches. Certainly Richard Young ranks high among that number.
Football, basketball and golf athletes wearing the Red and Black were among those mentored, tutored and taught by Young, who is credited by his former students with being a great role model and having a positive influence on their lives.
Young coached at Waycross High School during the 1960s. He was on the staff of head Bulldog football coach Earl O'Neal and was his assistant when Waycross High put together back-to-back state championships in 1960 and 1961. Coach Young's girls varsity basketball teams were among the best in south Georgia, winning their share of regional honors and often advancing to state tournament play. He also coached the Bulldog golf teams to regional and state championships and developed many outstanding golfers during his tenure as coach.
His former athletes speak often about the character of the man and the qualities that helped mold them into responsible adults.
After leaving coaching, the coach spent the remainder of his professional career in public education leadership positions. He served as the superintendent of schools in Lanier County before returning home to serve in the 1980s as the Ware County public schools superintendent.
Young has many times presented former athletes for induction into the Waycross-Ware Sports Hall of Fame and has for years been considered for enshrinement in his own right. This year, the year he was elected for induction, is also his first as a member of the hall's board of directors. In part because of his high character, he was recruited by his fellow directors to fill a vacancy on the board. Richard lives in Waycross with his wife Marie. They enjoy spending time with their son Ben, his wife Billie, and their three grandchildren, Ivy, Sage, and Reed.