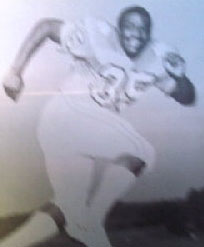 Randy Scott
Inducted 1996
He played varsity football as a freshman. In 1972-73-74, he led Dale Williams' first three teams at Waycross to records of 9-2, 8-2, and 9-1. The single loss in 1974 was a 15-14 defeat by the Groves Rebels in a game that Randy missed because of an injury. That loss kept them out of the playoffs. Many believe that with a healthy Randy Schott the Bulldogs could have been state champions.
The two-way perfomer was a peerless linebacker and sensational tailback. He also excelled as a punt returner and was a constant threat on kick offs.
He averaged 12 tackles a game in 1972 playing primarily on defense and special teams. He averaged 12.2 yards per carry in 1973 and had an impressive 7.8 yard average in 1974 in spite of being injured much of the season.
Clemson was not dissuaded by his injury plagued 1974 season and gave him a scholarship. He was projected as a running back in college but it was on defense, at linebacker, that he made his mark. He had three outstanding years as a starter from 1976 through 1978.
He was selected as a permanent team captain in 1976-77-78. His selection in 1976 was the first time in Clemson football history that a sophomore was so honored.
Known to his teammates as "Mudbone", he played at 5-11, 212 pounds. Randy had 133 tackles as a sophomore, 133 as a junior and tacked on 118 more as a senior. He was a two-time All-ACC choice and capped a spectacular career at Clemson with a 17-15 victory over Woody Hayes and Ohio State in the 1978 Gator Bowl. It was a typical outing for Randy as he had 13 tackles (two of them for losses), a quarterback sack along with a fumble recovery and one deflected pass.