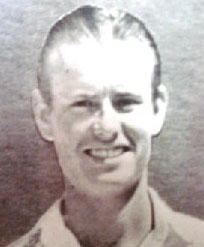 R.L. Miller
Inducted 1993
He was introduced to golf as a 14 years old in 1925. On his first trip to the links, he caddied for the young son of the local golf pro, Charles Mayo. The caddie fee at that time was 25 cents for nine holes. His love affair with golf that began in 1925 extended throughout his life until his death.
In 1928 he played his first time in the National Public Links Tournament. That same year he won his first amateur tournament. In 1932, he won the U.S. Public Links Championship and was the low gross medalist and semi-finalist in the Sears and Roebuck Tournament. That July, he shot the lowest score of his young career, a 65, and was honored by Kentucky Governor A.S. "Happy" Chandler with the title of Kentucky Colonel.
In 1933, he was runner-up in the U.S. Public Links Championship. He finished second in the Jacksonville City Amateur Championship and tied for first in the Amateur Division of Western Open. In concert with Scotty Cambell, they won an exhibition match against Walker Cup members Don Moe and Frank Dolph.
During 1934, in conjunction with his golfing, he caddied at various times for a number of people including Gene Sarazen and Julius Boros. He was low qualifier locally for the U.S. Open in 1935 and played in the Open at Oakmont C.CF. in Pennsylvania He also played with Walter Hagen and Open Champion Olin Dutra in the Walter Hagen Open in the Amateur Division.
He turned pro in 1935 to play in the Miami-Biltmore Tournament.
Between 1947 and 1964, Miller has many accomplishments in golf, some of which are listed below. In the Gator Bowl Pro-Am won over Dan Sikes with low individual score of 66; Won Fernandina Beach Open three times; won Mary Calder Open in Savannah three times; won Valdosta Open two times; Finished One Stroke back of the winner in the Georgia Open Title in 45; won Georgia Open Title in 59 and finished second in 64. Some of the more prominent golfers he bested in gaining the above titles were: Bert Yancey, Gibby Gilbert, Billy Maxwell, Hubert Manley, Jr., Bucky Henry, Julius Boros and Johnnty Pott.
Certainly, not the least of his many achievements is the count less hours of free counsel and instruction he bestowed upon his friends and especially the youth of this area to the betterment of the golfing fraternity.