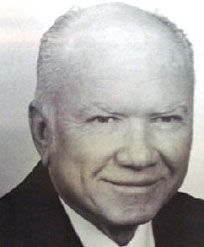 Nolan W. Lang, Jr.
Inducted 1989
He grew up in Waycross where he was an active boy scout. Growing up as a farm boy in an era when it was not uncommon for farm boy students to share the work load, it left little time for extra curricular activities. Consequently, he played football at Waycross High School only as a senior. During that year, 1943-44, he lettered in football and was a member of the basketball team that won the Eight District tournament. He was the starting fullback and a defensive back on the football team that won seven games but lost in the old South Georgia Football Association playoff to Albany High. He won all SGFA honors (equivalent to all state selection) and was honorable mention all-southern.
After graduation from Waycross, he enrolled at Auburn University where he was first string fullback and starting defensive halfback in 1944, at the age of 16. He was the youngest member of the squad that year and again in 1945. After the 1945 season, he was inducted into the Army, where in 1946, he played with the Ft. Benning Doughboys, the service's National Championship winner. In a Third Army track meet at Ft. Benning in 1947, he won the 220 yard dash and the shotput.
Upon completion of his military obligation, Nolan entered the University of Oklahoma where he was a fullback for Coach Bud Wilkerson's Big Seven (now Big Twelve) entry and 1950 Sugar Bowl winners. He enjoyed a 30 year teaching and coaching career. During 20 of those years, he coached high school teams and was coach of the State AAU Women's basketball team in 1952. During his football coaching career in the 70's, he served the programs at College Park, Headland and Russell in the Atlanta area. He then coached at Waycross with the distinction of being the only former Waycross player to return as its coach.
His career was not restricted to football, while in the Atlanta area, he became a baseball umpire and was one of those who worked two games of the National Service Championship series between Ft. Jackson and Ft. McPherson which featured, among others, Wilmer (Venegar Bend-Albany Cardinals) Mizell, Norm Cash, Marv Throneberry, Clete Boyer, Taylor (Waycross Bears) Phillips, Bobby Dews and Roy Cato.
In recalling some of the highlights of his career, he took justifiable pride in having never fumbled the football. He fondly recalled a game in 1944 involving Auburn and Alabama at Legion Field, Birmingham when played all four backfield positions and scored twice in 57 minutes of playing time. However, he said his greatest honor was having Ware County High School's 1983 Annual, its 25th, dedicated to him. He retired from Ware County High School.