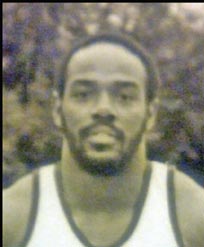 Morris Jackson
Inducted 2020
Being fleet of foot isn't for the lonely. When you arrive at the finish line, there's no one else there, except one person holding a stopwatch. One of the fastest sprinters on the planet, Morris Jackson knows well the feeling. But he would tell you that it is worth it all because the upside of solitude at the finish line is a display case filled with trophies and medals.
Jackson was a Waycross High state track champion in the 1970s. He was 10th in the U.S., and 12th in the world, and he owes much of the credit to his high school track coach, the late Leroy Herring. By 1982, Jackson had moved on from Waycross and had made his mark in collegiality in the Southwest Athletic Conference and the NAIA.
Now 59 years old, Jackson, who resides in Jacksonville, FL, is planning to return to his hometown to retire. "I have already bought a house and will be moving to Waycross within the next couple of months," he said. Getting back to his roots, he's bound to be awash in old memories, like Coach Herring's grueling track practices. It was a regimen that, for Jackson and his relay race teammates, resulted in the statewide spotlight.
In 1977, Jackson was the Region 2-AA and Subregion 2-AA East champion in the 100- and 220-yard dash events and the anchorman of the Bulldog 440 and mile relay teams, also the best in 2-AA. But at the state meet, the team didn't capture trophies in the sprint events. That would be rectified the next season when Jackson returned as a senior.
He returned to the state meet to represent 2-AA in the same individual and relay events. This time he and the Bulldogs brought home medals. Undefeated in the 100-yard dash all season, Jackson set the Waycross High record with a 9.6 time, and he was the state 100 champion. He was fourth at the state meet in the 220. The Waycross 440 relay team — Greg Irvin, the late Keith Gamble, the late Charles Junior, and Jackson — was third in the state finals. It was the first time all season they failed to come in first in a meet.
Attending Jackson State on a track scholarship, Jackson very nearly ran out of his shoes. He was a part of the 4X100 meter relay team that set a National Association of Intercollegiate Athletics record. Jackson and his mates were selected Southwestern Athletic Conference indoor and outdoor track All-Americans in 1979.
In 1980, Jackson was an indoor and outdoor track, All-American as an individual sprinter, and was runner-up to the NAIA 60-meter dash champion. Jackson won the 60-meter event in 1981 at the National NAIA meet and repeated as an indoor and outdoor All-American. With Jackson State joining the NCAA Jackson's senior year, he became a National Collegiate Athletic Association outdoor track All-American in 1982. That same year, he was named to the All-Time SWAC conference track and field team.
Jackson also played football at Waycross High. He was a tight end, and he scored the winning touchdown in the state championship victory over Dalton in 1977. He hauled in a pass from quarterback Keith Taylor on a 75-yard catch and run. Coach Dale Williams' Bulldogs won 14-7. "It was in the third quarter," Jackson remembered. "It was a pattern about 10 yards beyond the line of scrimmage. Once I caught it and turned it up, it was over."
Growing up, Jackson played other sports as well. But he soon became aware that his specialty was track. "In the 10th grade I dropped basketball," he said. "It was too close to track season."
His family is one personal point of pride to Jackson, especially his daughters, Takisha Lucas, Chandra Jackson, Jasmyn Jackson, and Jacquelyn Holsey, and grandson, Kasion Jackson.