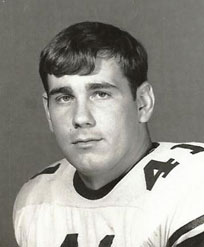 Mike Mincey
Inducted 2012
One of the finest all-around athletes in Ware County High history, Mike Mincey went on to star collegiately at Morehead State College in Kentucky.
He earned letters in football, basketball and track at Ware between 1961 and 1965. He was particularly outstanding in football, earning the first team running back berth on the 1963 Class AA All-State team as a junior.
Injured for much of his ninth-grade season, by his sophomore year Mike was the starting fullback. He also punted, played linebacker and received the George Fesperman Blocking Award for the season. His junior season he led Ware in rushing and was the second leading tackler behind All-State linebacker Clyde Roberson. He made All-State on offense. As a senior tailback in the newly installed single-wing offense at Ware, he led the team in rushing yardage and total offense and was the leading tackler on defense. He received the Rivenbark Most Valuable Football Player Award, the O.K. Burgess Athletic Achievement Award and the Ware High Outstanding Athlete Award. He was honorable mention All-State as a senior.
Mike then attended Morehead State on an athletic scholarship, was a four-year starter playing fullback and various positions on defense and helped the team win the Ohio Valley Conference championship in 1966. He graduated in 1969 with a degree in education.
Following a short tenure in teaching and coaching in Kentucky and at Tift County High in Georgia, he completed graduate studies and returned to Morehead State University, serving in several administrative roles over the next 27 years. His final 16 years at Morehead he was the vice president for student life, and, for the final five years, he also held the dual role of director of athletics. He retired in 2002.
Mike has three married children and one grandchild, with another expected in May.
He resides with his wife, Kathy, on a farm in southern Ohio.