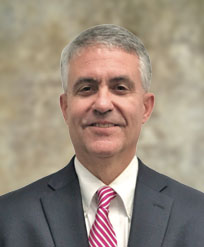 Mike Cuneo
Inducted 2018
Mike Cuneo, one of the elite tennis stars produced by Waycross -Ware County, was a well-rounded athlete at Waycross High School in the late 1970s. After a sensational high school career, he earned All-American status at two different colleges.
The student of Coach Ken Tate on the Waycross High tennis team, Mike earned All-Region honors all four years during high school. He was All- State as a junior and senior. In high school singles competition, he lost only two matches — in the state semifinals during his 11th grade season and in the state championship final round as a senior. Mike also went to state in doubles while playing for Tate's Bulldogs.
At Abraham Baldwin Agricultural College in Tifton, a two-year school, Mike was All-American as a freshman. Moving on to Northeast Missouri State (now Truman State), he was the team's ace there as well and was All-American his senior year.
Mike was also an accomplished high school quarterback in football (1980 Jour- nal-Herald All-Okefenokee Area team) and a journeyman basketball point guard for the late Coach John Pike.
He led Coach Dale Williams' Bulldogs to victories on the gridiron until a shoul- der injury sidelined him during a road game at Americus in 1980. The senior gave way to another talented quarterback, Todd Williams, the son of the head coach. Late in the game, Todd Williams kicked a long field goal to pull out the victory over the Americus squad. Mike Cuneo, despite his hurt shoulder, was the holder. After missing much of the season, the senior returned to provide an effective quarterback tandem with Williams, who was a junior. The silver-lined irony behind Mike's injury: Williams earned much valuable experience and the following year quarter- backed Waycross to the 1981 state championship.
Both Williamses, Dale (1989) and Todd (1998), are already enshrined in the hall as is John Pike (2003). Mike is part of another hall of fame legacy, one that is even closer to his heart. His father, the late Andy Cuneo, was inducted into the Waycross-Ware County Sports Hall of Fame in 1990.
Mike and Robyn Cuneo, who worship at First Baptist Church in Blackshear, have three grown children, Andrew, Ansley and Abby.