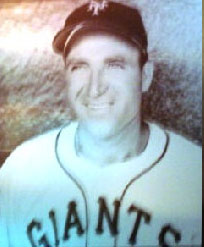 Mickey McGowan
Inducted 1995
He was a super high school athlete in Dothan, Alabama. Mickey won a scholarship to the University of Alabama for his football and basketball prowess. But a yen for the "diamond" caused him to renounce that opportunity to play professional baseball.
After a year at Dothan (14-7) in the Alabama State League, he played for the Waycross Bears in 1941. His 14-14 record belied his ability and potential. The league scribes and managers were not fooled however, because they chose him as the left handed pitcher on the All-Star team.
At Greenville, SC, the following year, he won 17 games and was again selected to the All-Star team. He was called up to the Atlanta Crackers at the end of that season and went 3-0 to give him a total of 20 wins in 1942.
After a three year stint in the U.S. Navy, he returned to Atlanta in 1946 and had a spectacular year. He was a league All-Star for the third time in four professional seasons. He compiled a 22-10 record and led the league with an ERA of 2.80.
He won 17 games at Minneapolis in 1947 and had earned a spot on the New York Giants roster in 1948. Unfortunately, six weeks into the season, an untimely arm injury ended a very promising baseball career.
Mickey turned to golf then and carried a scratch golf handicap from 1960 thorough 1980. He continued to play three or four times a week.
Mickey retired from CSX Railroad and lived in Waycross with his wife, the former Barbara Winn. They had three children, Douglas, Davis and Dana.