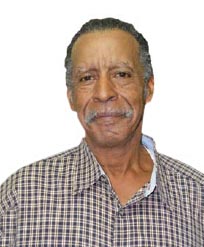 McKinley Williams
Inducted 2019
When you play for a 0-10 football program, you get very little respect. Such was the plight of McKinley Williams, one of the best high school football players in Georgia in the late 1960s.
As a ninth-grader at Ware County High in 1966, he played on the freshman team before joining the varsity for its final three games. Though he did not contribute significantly to the 3-5-2 record, he claims it … because it would be the best record the Gators would log during his tenure.
McKinley's teams at Ware went 7-31-2. His first full varsity season in 1967, the sophomore showed flashes of greatness. But the Gators finished 0-10!
In spite of the team record, McKinley was rated in the top eight of Georgia's high school running backs in 1969. Williams, the starting Gator tailback for three years, also played defense and special teams, leading each unit.
He was one of the top tacklers at Ware and an excellent pass defender. But it was when he touched the leather that he was dangerous. He ran the ball, caught passes, returned punts and kickoffs. He was the Gators' all-purpose yards leader and leading rusher every year from his sophomore through his senior seasons.
In the spring, he was a versatile track team man and quite a standout. He ran the sprint races — the 100, 220, 440 and the 440 and mile relays — and he won several of the events at the region meet each spring. He qualified for the state meet in a variety of running events.
By the time he entered Ware County High, he was a ready-made football player. Which makes it remarkable that he had never played sports up until then! Most of his teammates started in Recreation ball (as Pee Wees, Midgets or Juniors). Once he did get a start, he made up for lost time.
He was also a pioneer in the respect that his entry into high school coincided with public school integration, and McKinley, Joseph Howard and Roger (Glover) Jackson were the first African Americans to play Ware High football. While integration brought dissension and trouble in other communities and schools in Georgia, the transition was far less problematic at Ware High. McKinley takes a measure of pride in his role in the process and that Ware High had such a relatively smooth experience.
After high school, McKinley played one year of college ball at Savannah State before finding himself on another team — Uncle Sam's Army. A paratrooper with the 82nd Airborne during the final years of the Vietnam War, he spent his three-year enlistment at Fort Bragg in North Carolina.