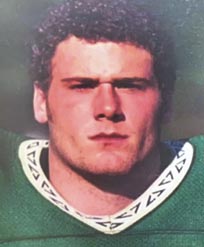 Matt Rio
Inducted 2022
It might be said that Matt Rio was one of those who struggled to decide which sports to play in high school, so he just played all of them. During his Ware County High School years 1996-2000, Matt earned varsity letters in football, basketball, baseball, and soccer. He could seemingly do it all!
But it was in football where Rio was an absolute star on the Coach Dan Ragle coached teams that won multiple region titles and advanced to the late rounds of the state playoffs year in and year out. When moving the Ware offense to more of a passing attack, newly hired Head Football Coach Ragle assured the faithful Gator fans there was one thing he would not change, defensive end Matt Rio. The coach noted that Rio always gives you everything he's got. His line coach Joe Haluski echoed those sentiments, "Matt went full speed at all times, displayed great leadership skills, and would expect only the best from himself and others."
And his coaches were right about Matt as he was named to the All-Okefenokee Football teams both on offense and defense and for more than one season. He was also named to the All-Region 1-AAAA Football offense and defense teams in 1998 and 1999. His post-season recognition did not end at the region level, as Matt made the All-State defense team at the end of his senior season. Rio was also a North-South GACA All-Star game performer. Rio's region and state accolades resulted in part from his leading the Gator Football team over his career with 225 tackles, and 21 QB sacks setting a school record his senior year with 15 sacks.
When asked to recall a game he remembers most, Matt shared the team's surprise victory over powerhouse Lowndes County Vikings who despite that loss went on to win another state championship. For Rio and his Gators that win must have felt like the super bowl. Matt recalled the post-game celebration on the field lasting for hours. Likely not for hours, but joy after a big win has a way of enlarging the moment and extending the time. Clearly it did just that for Matt and his three senior teammates.
After high school, Matt attended Georgia Southern University on a football scholarship where he was a defensive stalwart helping his 2000 GSU football team win the FCS National Championship. Matt matched his excellence on the field with his excellence in the classroom earning academic recognition as the WWCSHOF Scholar-Athlete, Peach Bowl Scholar-Athlete, and a finalist for the Florida Sports Awards Scholar-Athlete of the Year.
Looking back Rio credits his success to the coaching he received thru the years. He speaks fondly of Coach Steve Pennington who preceded Dan Ragle at Ware. Pennington's influence molded young Rio for both college football and life. While at GSU it was Coach Pennington who often reached out to him with encouragement and support. And then there was his college football coach, John Pate who Rio cites as playing a huge role in making him into the man he is today.
Matt Rio calls Florida his home now where he operates a successful insurance agency. But Matt's world centers around his wife Afton and their two children Brooklynn and Nolan. Matt is also happy to celebrate this night with his mother Nancy Rio and sister Ashleigh Rio Hames.