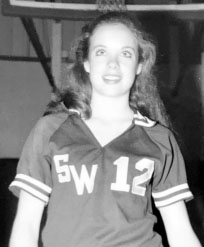 Marian Fesperman Block
Inducted 2018
When Marian Fesperman entered high school at Southwood School in 1979, the Lady Warriors varsity basketball program got the upgrade of its history. The multi-
talented athlete and her teammates joined the state GISA championship conversation … and had an annual say in the Final Four until she graduated.
As a freshman for Coach Ed Dowling, she helped lead her team to the state semifinal round. In the 10th grade, averaging 18.4 points a game, Marian and Southwood won the state crown beating Trinity Christian 45-36. Beefing up her points per game average to 26.7 as a junior, Marian and the Lady Warriors fell in the state championship
final to Twiggs Academy 26-23 (in three overtimes) as she fouled out. It was back to the throne room in Marian's 12th grade season (1982-1983) as she capped her career with well over 1,200 points and a career 25.5 points a game average.
She was All-Region three years and All-State as a junior and senior. In three state championship games, she bucketed 94 points. Along the way, Marian eclipsed single game school scoring records held by Lucy Pittman and Kelly Scott as well as Holli Huggins' career mark (875 points).
During the summer after her senior season, Marian was invited to play in the Georgia-South Carolina All Star Game (also known as the NORTH-SOUTH All Star game). The teams were chosen from all classes — Single A to Quint A — and the Georgia team (South team) won 96-89 as she scored 32 points.
After graduating from the University of Georgia, Marian was an American Airlines flight attendant for 12 years.
Marian has been married to Joe Block for 24 years. Residents of Athens for the past 15 years, they have three daughters. Caroline, 22, is a senior at Ole Miss, Larsen, 20, is an Ole Miss sophomore and Anna Marian is a senior at Athens Academy. She will be a scholarship freshman in the fall at UGA running track and field and cross country for the Dogs.
When her daughters were young, Marian was a stay-at-home mom. But she would resume her education later at Athens Technical College earning an Associate Degree of Nursing. She is now a registered nurse at Piedmont Athens Regional Medical Center.
The family worships at Athens First United Methodist Church.