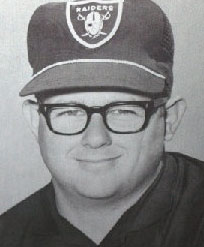 Lewis (Bugsy) Engelberg
Inducted 1989
He was an outstanding guard on the 1962 and 1963 Waycross high School football teams and played one year at East Tennessee State University before an injury ended his playing career.
He was a student football Assistant at FSU where former Waycrossan Eugene McDowell was the freshman coach. There he was assigned to researching and coaching the kicking game for the freshmen before being promoted to the varsity by Coach Bill Peterson as its kicking coach.
From FSU, he went to the Oakland Raiders as their kicking coach where his number one pupil was George Blanda. Coach Johnny Rauch who had brought Engelberg to Oakland moved to the Buffalo Bills and carried "Bugsy" with him to Buffalo.
He coached briefly in the Canadian Football League where Joe Thiesman, a Washington Redshins great, was the backup kicker.
He served as director of player personnel for the Jacksonville Sharks and later for the Tamp Bay Bandits and played a vital role in putting the team together and the acquisition of the coach.
From Tampa, he went to the Orlando Renegades of the USFL as their general manager. He served professional football teams as a scout and was an agent for several players.
He was instrumental in developing the football program at the University of Central Florida where Eugene McDowell (formerly of Waycross ) became the head coach. Sports, in general, and football particularly, lost an avid supporter and contributor with "Bugsy's" untimely demise in 1987.