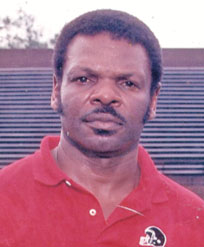 Leeroy Herring
Inducted 2017
Waycross High track and field Coach Leroy Herring (deceased) had a knack for find- ing talent in his student-athletes and bringing out the best in them, his guidance leading them to college where many of them continued to prosper athletically.
Herring joined the staff at Waycross High (upon the closing of Center High) in 1969 and stayed until 1992 coaching offensive backs in football and serving as track and cross country coach. Following Manuel Rivas as head track coach, Herring built on the firm championship foundation that had been laid by Chuck McKinney and continued by Rivas.
Under Herring, the Bulldogs were undefeated at their home track for an amazing 16 years! His track teams won 10 region titles, cross country six. Eight of his standouts were individual state champs.
An outstanding motivator, he helped place his athletes in colleges and 26 of them enjoyed successful careers.
Herring earned a bachelor and two masters degrees at Florida A&M, where he played football and track alongside teammate Bob Hayes ("Bullet Bob, The World's Fastest Human"), of Dallas Cowboys fame. He put in 36 years in public education, 28 at the high school level.
In retirement, he lived in Tallahassee, Fla. He died there March 5, 2003 after an ill- ness at the age of 63.