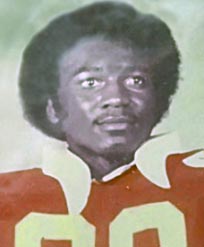 Leon Saunders, Jr.
Inducted 2022
Leon Saunders, Jr. was an outstanding Waycross High School three-sport athlete during the mid-1970s. His early coaching began at a very young age from his father, the legendary Coach E.L. Saunders. Through practice, drill, and repetition, young Saunders learned from his father the work ethic required of an athlete.
During his freshman and sophomore years, Saunders played basketball but dropped that sport his junior year to devote more time to football and track, where he excelled at both. Leon played wide receiver for Coach Dale Williams and as the team's co-captain led the 1976 Bulldog football team in total receiving yards.
With skilled hands and blazing speed, Saunders often juked defensive backs, left them frozen in their tracks, or simply outran them to the end zone. An excellent receiver must have good ball instinct and good hands. Leon had both! He beat defensive backs with his head and shoulder moves and with his speed. Opponents soon learned to cover Leon. And the better plan was to double-cover him. Deploying man-coverage against Leon Saunders was a gamble. A gamble that most teams simply lost. It was often said if the football was in the air more times than not, Saunders would catch it. He did this with precision often enough to earn Most Valuable Football Player honors his senior season.
When asked to share a fond football memory from his career wearing the Bulldog
uniform, Saunders went immediately to a play against Brunswick. And what a play to remember! The Brunswick Pirates kicker was good, very good, and good enough to kick the ball deep every time. The kicker and his Pirates quickly learned Leon Saunders was simply better. With calm and jet-like speed, Leon fielded the kickoff at his own one-yard line and then raced 99-yards for a touchdown. It marked the longest kickoff return of his career. His spectacular run brought every spectator to their feet and put his run into the Bulldog history books.
Saunders's speed made him a natural for the track team as he shined in the sprint events. With his speed, he was among the best in short-distance races and found his way onto the relay teams. Saunders was part of the foursome that placed second in the 4 X 100 relays at the State Track Meet. His skill, speed, and athleticism earned him a football scholarship to Morris Brown College in Atlanta.
When reflecting on his high school days, Saunders speaks fondly of Coach Dale Williams and his leadership. But he did not hesitate to single out the influence Coach Walter Taylor and Coach Leroy Herring had on his development through the years. As a young athlete, Coach Taylor and Coach Herring molded him, guided him, and accepted nothing less than the best from him. Saunders is quick to say how much he owes both for taking a personal interest in him.
On this special night of recognition, Leon remembers with love the steady hand and influence of his parents the late Everett L. Saunders, Sr. and Mary Alice Saunders; his brother John Harold Saunders; and his sister Sharon Saunders Brazil.