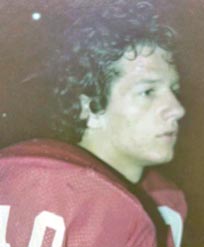 Larry Gene Veal, Jr.
Inducted 2023
Gene Veal was a football and track superstar for Waycross High School during the 1970s. He played for Coach Dale Williams' Bulldogs, and in his offense, a running back had to be proficient at blocking, running, and catching the football to make it into the starting lineup. And Veal was good in all aspects of the game. On the great track teams of Coach Manuel Rivas, Veal ran the hurdles and became a champion. Veal became a complete player. It was a result of his speed, his tenacious work effort, and his love for the game. Gene contributes much of his success to his rec league coaches the late D.J. Brown and Joe Segrest who made playing football fun.
Gene Veal would excel on the high school football field. His speed, shiftiness, and intelligence kept him on the field. There were many memorable moments for this ball carrier. Veal recalls the 1975 game vs. Wayne County when he became physically sick by halftime. It was clear he was the victim of a virus bug and could not play the second half. Yet, Veal suited back up and played the game of his life scoring three second-half touchdowns. Coach Williams, Coach Haluski, and the entire Bulldog staff discovered that night who # 40 really was. Veal was a fighter, a winner through and through.
And there were many other such nights for Gene Veal as his 1974 WHS team captured the 1-AAA Football Region Championship. Those kinds of winning performances would earn him the Most Valuable Running Back Award his senior season and attract college scouts. The University of Georgia came calling. Veal received a scholarship to play for Coach Vince Dooly's Dawgs. He recalls the 1978 game against VMI when he scored a touchdown on a 56-yard pass reception. He was a member of UGA's 1976 SEC Championship team and the 1978 Blue Bonnet Bowl Team.
What Gene Veal accomplished in football, he duplicated on the WHS track team. He was a member of Coach Rivas' 1972 AA State Championship Team. He earned individual and team honors in track throughout his high school years. He placed 2nd at the State Track Meet in the high hurdles in 1974; made the finals in the 180-yard low hurdles all four years in high school.
Veal excelled in the classroom, capturing academic awards from the Lions Academic Honor Society, Who's Who Among American Students, and Prep All- American Football Yearbook in 1974-75. He is a successful Insurance Sales Broker capturing many professional awards over the years.
Gene and his wife Allison have remained in the Athens area residing in nearby Watkinsville, GA. They are the parents of four children and one grandson. Daughter Lauren Veal Davis and her husband Dan are the parents of Levi. Their other three daughters are Savannah, Sophie, and Amelia Veal. Amelia is engaged to Ben Wolfe.