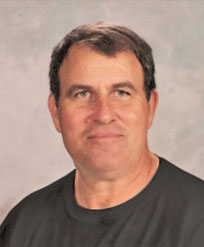 Kenny Whiddon
Inducted 2013
Ken Whiddon was born and grew up in Waycross where he played football and ran track at Waycross High and graduated in 1961.
After high school, Kenny walked on at the University of Georgia. Although he was told he was too small to play for the Bulldogs, he earned a full scholarship and lettered with the Bulldogs
three years. He was on the early Vince Dooley and Erk Russell teams in Athens.
During his senior year, Georgia won the SEC Championship. The Bulldogs won the Cotton Bowl as he recovered a fumble on a key play in the game. A close-up camera shot on TV marked the first time Ken's future in-laws saw his face.
As Ken graduated from UGA with a BA in Physical Education and Recreation, he stayed and helped Coach Russell as a grad assistant, honing his coaching skills under Erk's tutelage.
Kenney became "Coach Whiddon" and kept that title for the next 37 years.
Throughout his coaching career Ken coached many sports, but football and wrestling were his primary focus. He became known and sought after for his ability to build successful high school wrestling programs, several of them winning state championships. In each of the school systems that Ken coached, one thing was constant — he always left the program in excellent shape and always left for the next challenge before the current school was ready for him to go.
Near the end of Coach Whiddon's career, he was inducted into the National High School Wrestling Coaches Hall of Fame in Stillwater, Okla. and received the Lifetime Achievement Award. A high school gym where he coached in Dublin, Ga. bears his name.
Ken is now retired from teaching and coaching and lives in Dublin, Ga. where he is a pillar of the community. Because of his gracious humility, after meeting Ken, one would never guess
what he has achieved during his life. However, a short walk with Ken through town would make it obvious to anyone which achievement makes him the proudest. He has touched literally
thousands of lives through his coaching.