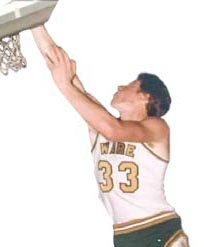 Kennon Taylor
Inducted 2019
Kennsel Bennett — a 6-foot-8 basketball center — was made for the low post. In high school and in college he was a scoring and rebounding machine. A true power player, he crashed the boards with abandon and was hard to stop as a scoring threat inside.
But his fadeaway jump shot from 12 to 15 feet was extremely lethal and perhaps his best offensive weapon.
His low post defense was, also, arguably the best part of his game.
He was one of Ware County High School's best big men in school history, playing for the Gators in the early 1980s. He parlayed his high school success to an outstanding college career, starring first at Anderson College in South Carolina, then at Kennesaw State University.
He had to adapt to different high school coaches every single year at Ware. In Grade 9, Joey Goble was his freshman team coach. In 10th grade, Bill Thombs was his coach. As a junior, the Gators hired Don Clatterbuck to coach the varsity. By his senior season, the Gators were headed for normalcy and stability under the leadership of Jim Dowling. "We were co-region champs that year and went to the state playoffs," Bennett recalls.
"We went to the third round of state — pretty good — then we played Randolph-Clay and should have beat them. They won by a close score. I fouled out of that game."
It closed the books on Ware's successful 1983 season. College recruiters took notice of Kennsel when he was entering the 11th grade. Anderson College started recruiting him at a Five Star camp in Milledgeville the summer between his sophomore and junior years of school, and Bennett came to like the junior college.
At Anderson, Bennett was All-Conference twice and All-Region as he helped his team to a No. 3 national JUCO ranking and a run that ended in the national quarterfinals. Anderson won the conference twice while he was there.
"We were run and gun," he said. "It was an enjoyable time."
With strengths that were hard for opposing players to neutralize, Bennett re-wrote portions of the record books at both colleges. With the Kennesaw State Owls, he was a dominant inside force for a middle-of-the-pack team, racking up the points and the rebounds and shooting 60 percent from the field. He was All-Region both years there.
He graduated in 1988 and played on a pro-am team in Atlanta that summer. He enjoyed it so much he stayed in amateur basketball competing for 15 years in two different leagues.
Returning to Waycross in adulthood, Kennsel was an effective community basketball coach at Ware High under coaches E.B. Price and Ed Dowling.