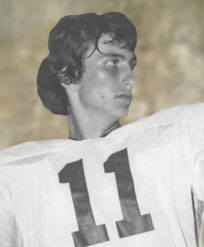 Kennon Taylor
Inducted 2018
Early during the decade of the 1970s, quarterback Kennon Taylor rewrote the passing records at Waycross High… and he did it again at Marion Military Institute… and then did the same at Arkansas State University.
Before graduating in 1975, Kennon led the Bulldogs of Waycross High to a 23-4 record while at the controls of Dale Williams' offense. As of the third game in his sophomore season, he was the starting quarterback and the Dogs finished 9-1 with a subregion championship. Kennon returned for an 8-2 junior campaign and Waycross spoiled Valdosta's homecoming with a Bulldog upset. His 12th grade season in 1974, Waycross went 9-1. His career totals included 115 completions in 230 attempts for 1,754 yards and 22 touchdowns.
A third baseman and pitcher on Coach Melton Callahan's Bulldog nine, Kennon helped his ballclub win the in- augural Phillips 66 Tournament sponsored by Dan Stipe. He was the tourney's Most Valuable Player.
Moving on for two years to Marion Military Institute in Marion, Ala., Kennon was signed to a baseball and football scholarship. But it was during football season that he dominated. He still holds six MMI records: season passing yards 1,597, career passing yards 2,645, completions for a season 102, completions for a career 178, TDs for a season 18 and TDs in a career 27. As a freshman he was a JUCO All-American and he made first team All-Alabama Small College. It was MMI's best season since World War II. The following year, Kennon and his MMI mates finished 8-2 and No. 9 in the nation among junior colleges. He ranked second nationally in total offense and third in passing yards, numbers that got the attention of Playboy magazine, which tagged him for their top newcomers list in 1977 as he entered Arkansas State.
Kennon quarterbacked the Red Wolves of Jonesboro, Arkansas to back-to-back 7-4 records in 1977 and 78, but he left the school as its career passing yardage leader despite having played for just two years. He also was ranked No. 4 in career total offensive yards. Kennon's two-year totals were 170-for-372 passing for 2,491 yards and nine TDs while rushing for 392 yards and 10 scores.
Kennon has been married to his high school sweetheart (and majorette) Kathyrn for 40 years. Daughter Nikki (Dr. Kristina Johnson) and husband Ryan have one child. Son Adam Taylor and wife Amanda have two children. Adam, a Waycross police officer, is a combat veteran with three combat tours under his belt.