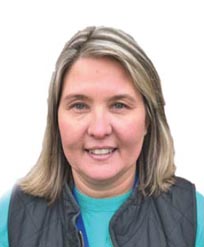 Kelly Durham Brown
Inducted 2019
Kelly Durham Brown, a four-year starter and leader in two varsity sports at Ware County High School in the 1980s, went onto play college basketball and win accolades at two different schools.
A high-scoring point guard, she sparked the Lady Gators to the program's first big successes in the fi ve-on-fi ve era of girls basketball. She also keyed the Ware softball team to high recognition as a third baseman who was a tough out at the plate.
Brown, a natural scorer on the basketball court, helped Ware win a subregion title as a sophomore. A year later, her junior season, the Lady Gators took it a step further, winning the Region 1-AAA Championship and qualifying for the state tournament.
She had honed her skills by her senior season to the point that she averaged 20.6 points and better than 8 rebounds a game as she and her teammates repeated as region champions. Another state playoff appearance was included in the spoils. Brown also led her team in assists, steals, and blocked shots during her senior campaign (1989-90). She shot 56 percent from the field, and for much of the season averaged 75 percent in a "new" category of field goal … the three-point goal.
She made all the consensus all-star teams, including the Journal-Herald Big 15 All-Okefenokee Area team (all classifications) and was the All-Area Player of the Year. When the dust had settled on Brown's high school basketball career, the Lady Gators' record stood at 71-18.
Her ability to make the varsity at a young age was a natural progression for her. After all, as just a 6th grader entering junior high, she was the starting point guard on the 8th-grade team, which had back-to-back unbeaten seasons when she was in 7th and 8th grades.
As third-sacker in softball, Brown won her team's Most Valuable Player and Coaches awards. The team went deep in the playoffs in her junior year.
She also played tennis doubles as a high school senior.
After high school, Brown attended Georgia Southwestern College on a full basketball scholarship. As a freshman, she was the leading scorer and MVP, earning All-Conference and the GIAC All-Freshman Team. In fact, she was the GIAC's Freshman of the Year Transferring to Brewton-Parker College for her final two years of college ball, Brown led the team in scoring and made the All-tournament team both years at B-PC.
On a side note, while in high school she was honored by the Waycross-Ware County Sports Hall of Fame as a Scholar-Athlete of the Year.
Nowadays, she teaches current day young student-athletes as a health teacher and coach at Pierce Middle School.