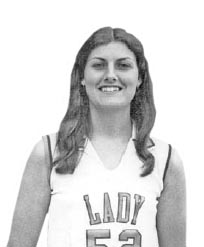 Katherine Meeks Love
Inducted 2019
When Kathy Meeks was a junior at Waycross High, she and her basketball teammates lost in the 1977 state finals by a heartbreaking two points to Cherokee County. A year later, though, they kicked down the door to win the first state basketball championship in the school's history.
A tall power player, Meeks could score from anywhere on the court and was a leading points producer and rebounder.
With her induction tonight, Kathy Meeks Love joins her 1978 teammate Barbara Stanley Lively and head coach, Coach E.B. Price, as members of the Waycross-Ware County Sports Hall of Fame. (Lively entered the hall in 2015 and Price was inducted with the 2001 class.)
For Waycross High, it was an encore that school year in the state throne room as the football Bulldogs had also won the biggest of trophies — the 1977 Class AA championship — just a few months earlier.
Before graduation, Meeks was selected for the honor of playing in the Coaches North-South All-Star Game, then it was off to college to further hone her athletic skills.
She was briefly aligned with the University of Georgia Lady Bulldogs, but when the head coach changed in Athens, she sought a transfer to Georgia Southern College. In Statesboro, Meeks played basketball … but only briefly. It was on the college softball diamond where she found stardom.
Walking on to the softball team, she soon received a scholarship and gave up basketball. As a first baseman, she was All-State her sophomore, junior and senior years, as well as helping the team to win the Georgia State Championship all three years. She won the Female Senior Athlete award for softball as GSC finished in the top 10 three years running.
She graduated in 1982 with a degree in physical education/health.
Growing up in Waycross, Meeks' interest in basketball and athletics came naturally. At age 12 the Waycross All-Stars won the Georgia Midget State Championship in Warner Robins and Meeks was voted MVP.
Living in retirement in the Hershey, Pennsylvania area with her husband, Robert Love, she has coached young girls instructional league basketball for 4th and 5th graders.