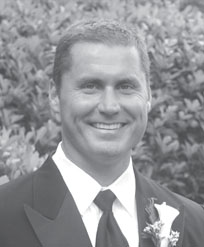 Johnny Taylor
Inducted 2012
A premier athlete at Ware County High School, Johnny Taylor had a stellar career as a quarterback 1989-1991. He earned All-State and All-America recognition as he was breaking Ware High passing records held by Chris Sloan, Doug Gill and others.
His career stats at Ware include over 5,700 yards passing, 53 passing touchdowns and five rushing touchdowns. He was a standout on the basketball court as well.
Johnny went on to become the starting quarterback at the U.S. Naval Academy Preparatory School in Newport, R.I. and later transferred to Valdosta State University where he was a two-year letterman at tight end and fullback.
During his Ware career, he was recognized for honor by local, state and national media. Among honors bestowed were Blue Chip Magazine Pre-Season All-America, three-time All-Region quarterback, three-time All-State (honorable mention) by the Atlanta Journal Constitution, two-time All Coastal Empire by the Savannah Morning News, Florida Times-Union Super 11, the No. 15 State of Georgia Single Season Passing Leader by Peach State Football (1991), USA Today "Players to Watch" in Georgia, Max Emfinger's Future Superstars of 1991 and National 200 Top 28 Quarterbacks.
He is married to the former Jennifer Allen and they have five children, Seth, Anslei, Brody, Addison and Emmaline.