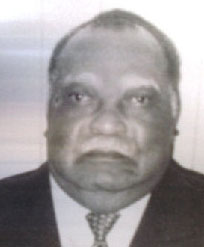 Johnnie Green
Inducted 2003
Johnnie Green was an extraordinarily gifted athlete. He played football and basketball for four consecutive years at Center High School. He was a first string player all four years in both sports.
Johnnie culminated his high school career in football by leading the Tigers to the state championship in 1956. As a team Co-Captain, he spearheaded the offense from his fullback position. They defeated Thomasville 21-20 for the region title. The following week the Tigers claimed the championship with an 18-12 victory over Ft. Valley. His play and leadership were instrumental in both wins accord to Coach C.L. Fisher.
"Slick" as he was known to his classmates, epitomized that nickname both on the court and gridiron. A shrewd competitor, he led the basketball team to a region crown in 1957.
Johnnie was voted the school's Best Boy Athlete his senior year. This prestigious award was only one of many that he received during his remarkable career at Center High School from 1954 through 1957.
His exploits on the gridiron earned him a scholarship to Albany State College. He made the starting team as a freshman and the Rams won a championship that season. They were the runner-up team the next year.
Johnnie died in 2004. He and his Wife Vernell had one child.