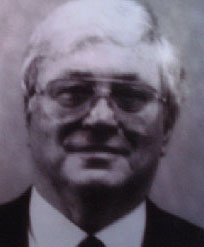 Jimmy Joyce
Inducted 2000
An exceptional two sport star at Waycross High School from 1947 through 1950 where he played baseball and football for the Bulldogs.
A two way performer on the gridiron for Coach Vassa Cate as a linebacker on defense and on offense he was an end who changed to halfback his final year.
In a game against Jesup in 1948, Jimmy had pass receptions for 55 and 57 yards. One was for a touchdown. He scored both touchdowns in a 14 to 13 victory over Albany in 1949 and the next week scored both TDs in a 13-0 triumph over Fitzgerald.
While his football prowess was impressive, it was on the diamond that he was at his best. A solid defensive catcher, Jimmy was a base runners nemesis with his strong throwing arm. He was renowned as a long ball hitter with many triples and home runs to his credit.
The 1947, 48 and 49 Bulldog baseball teams were all strong contenders and the 49 team only lost one game, a 6-5 loss to Albany. He was also a standout on the strong American Legion teams of the late 40s..
Jimmy earned a partial scholarship to Georgia Tech in 1951 and was a varsity starter on the baseball team for two years. His time at Tech was interrupted by a two year hitch in the U.S. Army where he played service league football and baseball for Ft. Rucker, Alabama and Ft. Benning, Georgia.
After college, Jimmy played for the ACL Red-Sox and other semi-pro baseball teams for several years.
As a recreation department coach for four years at Williams Heights, he coached pee, midget and junior baseball and football.
Jimmy retired from CSX railroad as terminal trainmaster and is married to the former Louretha Albritton. They have two children, Jeffery and Shauna.