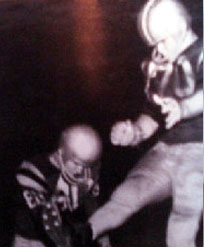 Jimmy Guy
Inducted 2004
He was arguably the most prolific kicker in the history of Waycross High School. Certainly he was one of the most powerful.
He began kicking as a freshman in the second game of the 1957 season and continued to handle extra points, field goals and kickoff chores throughout his four years of high school.
He grew from a 190 pound freshman to a 235 pound senior. In addition to his kicking prowess he was an outstanding defensive tackle. One of several All-State selections on the undefeated, untied state AA championship team of 1960, Jimmy also was chosen to the prestigious All-Southern team that year.
During his four years of high school, the Bulldogs posted records of 9-1, 6-3-2, 8-3 and 13-0. The 1960 team was the first undefeated team in Waycross history and is considered by many to be the best ever at Waycross High School.
Jimmy successfully converted 61 extra points his senior year and had few kickoffs returned as they consistently went out of the end zone. His extra points were the winning margin in games with Benedictine in 1957 and Valdosta in 1958 and 1959. His field goal against Jesup in 1960 brought a 23-20 victory and put the Bulldogs on the road to the state championship. His extra points gained the Canines 7-7 ties with powerful teams from Jesup and Thomasville in 1958. Thomasville was Co-Champion in class AA that year and Len Hauss led Jesup to the AA championship the next year.
Jimmy signed a scholarship with the University of Georgia in 1961 and later played briefly with the Green Bay Packers until a knee injury terminated his career.
After the injury Jimmy turned to golf and had served as the golf pro at clubs in Florida and Alabama. He lost a battle with cancer in 2003 and a tournament will be played annually in his name and the proceeds donated to the American Cancer Society.