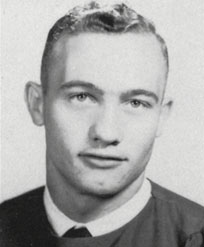 Jimmy Carter
Inducted 2015
Jimmy Carter was a football hero and a state track record holder in Ware County High School's earliest days nearly six decades ago. He was one of the rst wave of athletic stars at the brand new Ware County High School which opened its doors on Gorman Road in September of 1958.
For the Ware Gator track and eld team, he excelled in the 220-yard dash, the 440-yard run, the long jump event and in the mile relay.
He held the school record long jump of 20 feet 2.5 inches, and he was the anchor leg runner on the mile relay team that broke the state Class A record performing at the state meet at the University of Georgia in Athens. Other relay team members were Toomer Tatum, Ronnie Boatwright and Audie Hough.
Small but fast, Carter made a splash on the football eld for the Gators. He knew no fear although often yielding 75 pounds to opposing players. Carter, a trusted ball carrier and "go-to" pass receiver, tipped the scales at a slight 130 pounds.
The "Deenwood Flash" recorded some of the longest touchdown runs on record for the Gators of Coach Tommy Guillebeau during the 1958, '59 and '60 seasons.
He stood out as well on defense and on special teams, playing cornerback, safety and return specialist on kickoffs and punts. It was hardly unusual for Carter to score multiple touchdowns in a variety of ways (rushing, receiving, returning punts or kickoffs) in the same ballgame.
Carter has had a very active law enforcement career which has included being appointed United States marshal by President H.W. George Bush. In recent months he has reprised his role as police chief for the city of Brunswick, serving on an interim basis.