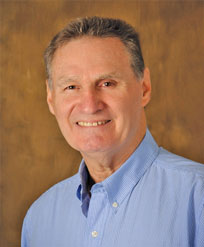 Jim (Smiley) Burrows 
Inducted 2013
Jim "Smiley" Burrows played football for the Waycross High School Bulldogs from 1956 through 1959. His life-long love for sports, particularly football, began as a running back for the Morton Avenue Elementary School Panthers. Following his sophomore season at Waycross, he was selected by the YMCA Men's Club as one of only five athletes in Georgia and 150 nationwide to attend the Fellowship of Christian Athletes Summer Conference at Estes Park, Colo.
As a Waycross High Bulldog running back, Smiley helped lead the 1959 Bulldogs to an 8-2 record and the state playoffs. He was the leading rusher in six games and near the end of the season was tied with Marvin Hurst as the scoring leader. His best game was against Glynn Academy as he had 150 yards rushing, 54 yards receiving and scored three touchdowns. Smiley was named four times to the weekly state AP Roll Call of Stars, was Honorable Mention All-State and won his team's Offensive Back MVP Award.
Following his senior season he received a full grant-in-aid scholarship to the University of Georgia where he played for legendary Coach Wally Butts and for Coach Johnny Griffith.
In October 2010, he and five other members of the 1959 Waycross Bulldogs were invited by the 1960 State Championship Waycross Bulldogs to join in the 50th Anniversary celebration for their part in helping the 1960 team become state champions.
Smiley graduated from Georgia with a degree in education and continued his involvement in sports. He served in public recreation for the Moultrie Parks and Recreation Department for the last 39 years, most of them as Athletics Program Director. He was a member of the Georgia Recreation and Parks Association, serving on the Membership Committee, Awards Committee and State Athletics Committee for 10 years.
In 2000 he received the Jim Buck Goff District III Distinguished Professional Award which recognizes "an individual who has excelled in situations where they are primarily responsible for the supervision or implementation of recreation, parks or leisure services."
He retired from full-time work in January of this year, but he continues to be active in sports as an official with the local Sunbelt Umpires Association.
Smiley and his wife, the former Elaine Myddelton of Waycross, have two children and seven grandchildren. Daughter Katy Martin and husband Bud have three children and son Brown Burrows and wife Tina have four children.