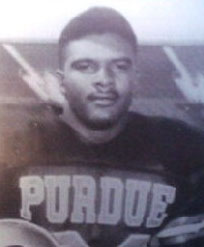 James (J-Bird) Medlock
Inducted 1996
He was a three sport letterman at Waycross High in the early 1980's. J-Bird excelled in football and track. Also, he was valuable member of the basketball team.
J-Bird was a picture perfect athlete. He was a rangy 6'3" tall, 215 pounder who had 4.6 speed in the 40.
He was a strong rebounder and moderate scorer, he became a key player on the round ball court for the Bulldogs.
He was one of those rare athletes who combined speed and power. His performance in a three way meet, with Brunswick and Glynn Academy in 1984 is a case in point. He captured first place finishes in the 100 and 220 yard dashes and then promptly won the shop put event. He was also on the 440 and mile relay teams.
However, it was in football that he commanded the most attention. In 1981, as a sophomore, he was the leading ground gainer on Dale Williams' 14-1 state championship squad. He rushed for more that 1000 yards in 1981 and 1983. His average yards per carry improved from 5.7 to 6.2 and then 7.7 for the period 1981 – 1983.
Heavily recruited by Georgia, Nebraska and Purdue, he chose to play for Purdue in the Big Ten Conference.
As a freshman, he scored two TDs against Northwestern and one against Illinois. He had single game totals of 129 yards against Northwestern in 1985 and 126 yards against Louisville in 1987. J-Bird also scored a touchdown in a 31-29 upset of the mighty Michigan Wolverines. The Purdue quarterback during his playing time was Jim Everett of NFL fame.
Unlike many of the athletes in recent times, when J-Bird left Purdue, he had graduated and earned a college degree.