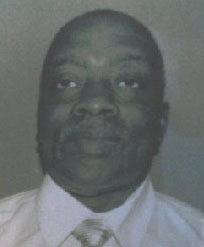 James Gail
Inducted 2009
James was a two year starter at halfback on the 1970 and 1971 Waycross Bulldog football team. Coaching the Canines those two years was Nolan Lang.
After Doyle Orange's record setting year in 1969, the Dogs fell to 5-5 in 1970 and then rebounded in 1971 to a solid 7-3 season. Starting with three consecutive shutout losses in 1970, James broke that string with a 61 yard punt return against Tompkins for a 6-0 victory. He was outstanding in a 33-0 win over Arnold and then gained over 100 yards rushing in a 25-6 triumph over Groves. The 26-8 win over arch- rival Glynn Academy was not only a stellar offensive game for James with two TDs, he stunned the Red Terrors with three interceptions on defense. He had a 57 yard TD reception in the final game against Coffee.
Opening game of the 1971 season was a 14-0 victory over Bradwell and James gained 80 yards rushing. Next week was even better as he blasted Jesup for 129 yards and three TDs, one for 87 yards. In the season finale, he caught a 55 yard pass in the end zone to beat Coffee 14-7. There was only two seconds left in the game.
James was also a prominent member of the successful track teams under Coaches Churck McKenny and Manual Rivas. Waycross was known for its sprinters. Speed demons like Doyle Orange and Morris Jackson were world-class and James was not far behind. James sill holds the Waycross High School record for the 400 meters with a time of 47.7 seconds. He was a member of the record holding quartet in the 400 meter relay along with Doyle Orange, James Lewis and Johnny Cannington.
While not achieving the distinction he enjoyed in football and track, James was a good solid jouneyman player on the basketball. He was a valuable contributor for coach Allan Johnson whether starting or coming off the bench. A modest scorer, he was especially strong as a defender.
He is married to Regina.