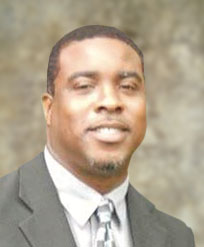 James Edward "Bull" Mitchell
Inducted 2018
Earning the respect of his coaches, teammates and opponents at every level of the game – high school, college and pro – James Edward Mitchell was a force on the football field.
Playing for Coach Dale Williams at Way- cross High in the late 1980s, the linebacker/defensive lineman was a head hunter with a far flung reputation. Often during practice sessions after school, his coaches had to remove him from the scrimmage for fear of him injuring his teammates. On two occasions Edward "Bull" Mitchell delivered hits that broke the iron bars of helmet face masks.
Edward was an All-Region star for two seasons at Waycross and achieved All-State honors as a senior (the 1990 sea- son). He was the Bulldog team MVP his final high school season and he was selected to compete in the Georgia High School Coaches All-Star North-South game.
He averaged 130 tackles a season during his high school career.
Coached by Leroy Herring on the Waycross High track team, Edward made All-Region in the 11th grade. He competed in many events: the 100 meters, 200 meters, mile relay, 440 relay, shot put, long jump and triple jump.
At the next level in football, his coaches at Itawamba Community College in Mississippi moved him to running back. As a freshman there he was his school's Most Valuable Offensive Back. Back on defense as a linebacker the following season he earned All-Mississippi JUCO honors.
Moving on to Valdosta State University, Edward led the Blazers in tackles for two seasons and made the Gulf South All-Conference team during his senior campaign.
One of a handful of men from his home Waycross-Ware community to play professional football, Edward was a member of the Ottawa Rough Riders of the Canadian Football League.