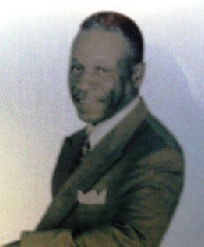 James Bing
Inducted 2007
James was captain of the last Center High state football championship team in 1962. He was a two-year starter at running back and set a single season scoring record of 26 touchdowns as a senior. Chosen to the All State team in 1962, he was also a starter in the 1963-East West Al Star Game in Atlanta.
Earning a scholarship to Morris Brown College in Atlanta, he was a four year starter at running back and linebacker. His honors include being selected All City in 1964, 65 and 66. He was All SIAC running back in 1964 and served as team captain in both 1965 and 1966.
His four varsity letters in football were complimented by three letters in track.
James tuned to officiating after college and established a remarkable record in both football and basketball on a high school and college level. A member of the Capital City and Georgia Football Officials Association, he officiated one state Class A and many Class AA/AAA regional championship games.
In basketball, he called numerous state tournament games in Macon and at South Georgia College. Ten times he worked AA/AAA regional tournaments in Atlanta/Dekalb County.
Advancing to the college ranks, he began as an official in the Southern Inter-Collegiate Athletic Conference. In 1987-88-89, he was a Division 1-A football official in the Atlantic Coast Conference. James then officiated in the SEC from 1990 until 2005 when he retired.
The record of bowl games he has officiated began in 1995 with the Hall of Fame Bowl, 1999 (Alamo Bowl), 2003 (Las Vega Bowl), and 2005 the Liberty Bowl. He worked two SEC Championship games in 1998 and 2000.
The pinnacle came in 2000 when he officiated the Sugar Bowl National Championship game between Virginia Tech and Florida State.
James is a Vietnam veteran. He is married and has two sons and is also a former member of the Atlanta Housing Authority. He is partner/owner of Ultra-Kare Landscaping Company in Decatur, Georgia.