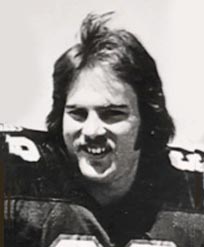 Jack Chaney, Jr
Inducted 2022
The late Jack Chaney, Jr., was tough as they come football player and an equally polished baseball player at Waycross High School during the mid-1970s earning letters in both sports all four years of high school. Lettering as a freshman in one sport is quite a feat, young Jack did it in two sports. Chaney also played basketball during the early years of high school but opted out of basketball to spend more time perfecting his skills in football and baseball. And did he ever accomplish that!
As a defensive lineman, Jack earned the immediate respect of his teammates and even more so the respect of his opponents. Relentless, tough, and determined were words that might best describe his defensive play on the field. It was not unusual for Jack to be double-teamed by opponents. It was clear when coming to the line of scrimmage, the opposing quarterback located Jack Chaney and pointed him out to his blockers.
Jack played football for Head Coach Dale Williams and was a member of Waycross High Graduating Class of 1975. Coach Williams was quick to admit that the Chaneys along with several other families with more than one son kept his Bulldogs at the top. So good was Jack Chaney, that he was named Outstanding Defensive Lineman in 1974-75. Make no mistake about it, Jack played with heart, never met an obstacle, and took great pride wearing the red and black. He was simply a winner!
It was on the baseball diamond where Chaney's skill and smoothness earned him Most Valuable Player honors his senior season. He earned four letters in baseball starting for the Bulldogs as a freshman. Over four years on the baseball diamond, Jack shined and established himself as the man on the team. He earned Most Valuable Player honors for the diamond Dogs in 1975.
Jack's baseball talent level soon caught the eye of both college coaches and professional baseball scouts. Following his senior year, Jack had the opportunity to sign directly out of high school with MLB's Cincinnati Reds minor league team. Signing out of high school during these years was so uncommon, but Jack had the chance to graduate and play professional baseball in that order.
His dream of earning a college degree took him on scholarship to the University of Tennessee Martin where he played both football and baseball from 1975-79. Playing one sport in college is difficult but playing two can be overwhelming. But Jack Chaney did it. As a freshman, young Chaney played nose guard because of his unique quickness and toughness. But after one year in the middle of the defense, he was moved to his normal position at defensive end.
At UTM he excelled in both sports, but it was in football where he turned heads early in his career leading the defensive team during his sophomore year with 15 QB sacks, 28 unassisted tackles, and 10 assists. That level of play earned him second-team All-Gulf South Conference honors in 1977.
After college, Jack worked for CSX Transportation as a crew manager. He is the son of the late Jack and Peggy Chaney and was the proud father of two daughters Kelli Howell, and Litza Chaney, and a son Jack Chaney, III. His brothers are Ricky, John, and Ross Chaney.