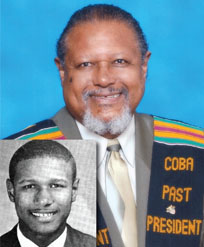 J. Maxie Hemmans
Inducted 2013
Center High School athlete J. Maxie Hemmans played football four years for the Tigers, donning the blue and gold from 1958 through 1961. He was a three-year starter as both an offensive and defensive tackle. Labeled a "60-Minute Man" because he never left the field, Hemmans played both offense and defense, and was a member of all special teams.
As a senior, Hemmans was voted captain of the football team, elected student body president, and was named to the Georgia All-Star football team in Atlanta as a twoway starter at guard.
He earned a full athletic scholarship to Morris Brown College in Atlanta. He played four years there as a first-string offensive and defensive guard, and was selected to the All-SIAC conference team.
After earning his B.S. degree in mathematics, Hemmans returned to Waycross to teach math and coach football at Center High and then at Waycross High.
When he moved to California, he earned his master's degree and continued to teach and coach in Los Angeles, building character and influencing the lives of many young men who later played major college and professional football, including one athlete who would later be named head coach of the Oakland Raiders.
Hemmans later served as an administrator at several secondary schools in the Los Angeles School District, retiring as a principal in 2005. He currently resides in Carson, Calif. with his wife Eve. The couple has three children and five grandchildren.