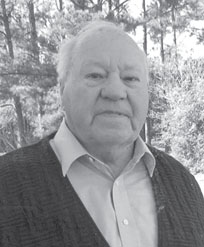 J. L. Clark
Inducted 2012
John Lee "J.L" Clark was one of the best football players in Wacona Hornet history. Playing in the mid-1950s, he was twice an All-State Team choice and was named the Class "B" Lineman of the Year after his senior season (1956) by the Atlanta Journal-Constitution.
The first organized football game that he ever witnessed was one that he played in, having moved to Waycross from Kingsland, the town in which he was born. While watching Wacona's varsity football team practice from his classroom window, he decided that was something he would like to try. He made the team in the ninth grade and played four years of varsity football (1953-1956). He and his teammates never wore protective faceguards; therefore he suffered three broken noses.
At the end of his junior year, he was named to the Atlanta Journal-Constitution Class "B" All-State Team. Following his senior year J.L. again earned All-State honors, including being named the Class "B" Lineman of the Year.
After graduating from Wacona he played in the annual North-South All-Star game in Atlanta in 1956. The South squad trounced the North All-Stars. While at the North-South game, he signed a scholarship agreement to play at the University of Chattanooga, but he decided against playing college ball by the time the fall rolled around.
Today J.L. resides in Marianna, Florida with his wife, Annette Beverly. They have four children, fourteen grandchildren and four great-grandchildren.