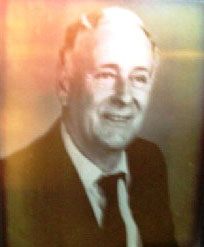 Herb Reeves
Inducted 1995
He was an outstanding area high school coach in both baseball and basketball. He was also a professional baseball pitcher.
After an outstanding high school career in Kentucky, he entered the Navy and served aboard a destroyer in the Pacific during World Ware II.
From 1945-47, he excelled as a basketball and baseball player at Cumberland Junior College in Williamsburg, KY. In basketball, he led them to the KY Junior College championship. Then they beat the Alabama champions for the Southern Conference JC title. He was the team captain and also reaped All-State and All-Conference honors.
He followed his JC coach to Georgia Teachers College in Statesboro from 1947-49. He was the co-captain and captain of teams that posted records of 18-5 and 21-4.
The teams on which he played basketball won 78 of 90 games in college. As a pitcher, he compiled a mark of 29-8 during his college days.
From 1949-1952, he pitched for minor league teams in Dublin, Rome and Waycross. His professional chart included 43 wins and 19 losses. He won 33 of those games for the Waycross Bears over two seasons and drew the attention of the New York Yankees. However, the debilitating effects of bursitis forced his retirement from the game.
As a basketball coach in Ware County from 1949 through 1966, his boy teams at Waresboro, Waycross and Ware County had a winning ratio of 66 percent as they won 214 and only lost 112 games.
His first team at Waresboro won 30 games and lost four. That same year his Martins baseball team went all the way to the state finals.
At Ware County High School, Herb took two of his teams to the state playoffs. He was instrumental in the development of Ray Jeffords who went on to become a three years starter at the University of Georgia. Ray was inducted into the local Hall of Fame in 1991.
Besides coaching, Herb was a teacher and principal before retiring after 40 years in education. He spent 16 years as a coach and teacher and 24 years as a principal and administrator. He and his wife Margaret are parents of William and Renee. They make their home in Waycross and Herb has remained very active in civic affairs and could be seen occasionally on the Golf Course.