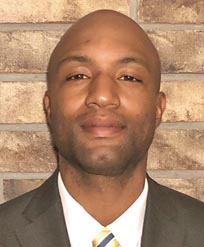 Henry E. Chubb, II
Inducted 2022
Henry E. Chubb II entertained Ware County High School Gator football fans from 2001 – 2005. He was considered a main cog among the gears that turned the numerous state playoff appearances for teams under former Coach Dan Ragle. Speed, quickness, agility, discipline, intelligence, and toughness are the words that might describe his play.
Playing quarterback and defensive back speaks to the skill of any athlete. But Chubb played both positions and played them equally well. One does not have to go far to prove this point. In many ways, he was in a class by himself.
During the 2004 Ware vs. Wayne County game, QB Henry Chubb threw two touchdown passes. Then at his defensive back position, he intercepted two Yellow Jacket passes returning one for a TD. Need more…well again during the 2004 season, against Baldwin he was tasked to defend the #1 wide receiver in Georgia who was a commit to the Crimson Tide. And did he ever come up strong! He literally wore the receiver like a glove intercepting two passes directed toward him. Well, he was not done for the night, QB Henry Chubb also tossed a touchdown pass during the game.
These performances were common for Chubb which earned him honor after honor in the region and across the state. Chubb was named 2002 1st Team All-Region DB; 2003 1st Team All-Region DB; 2004 1st Team All-Region DB; 2004 Athlete of the Year, 2004 All-State Defensive Team at DB; 2004 All-State Honorable Mention at QB. If you came to a Ware game looking for an autograph, Henry Chubb would be the man to search out. Chubb admits it was Coach Dan Ragle who believed in him and placed high expectations for him on and off the field. But it was his offensive coach Sean Pender who he credits with teaching him the game of football, quarterback play, reading defenses, and molding him into the man he became. And for his development at defensive back, Henry credits his former high school coach Terry Smith.
Chubb excelled in the classroom as well as on the athletic field, graduating with Honors in the WCHS Class of 2005. After graduating high school, Henry attended Troy University on a football scholarship. Following his sophomore year, he transferred to Georgia Southern University to complete his college football career. His college play at GSU was cut short due to a career-ending injury but not before he had made a name for himself at the University.
After college, Henry continues in his career path as an independent contractor. Active in youth programs, Chubb serves as a Youth Sports Trainer. He is married to Marinda, and they are the proud parents of their lovely daughter Armani. He remains grateful to his parents Sheena and Anthony Causer, Henry Chubb, Sr., his brothers DeMarius and DeMetris "Meet" Causer, Zachry and Nicholas Chubb, and sister Neidra Chubb. His life has been positively impacted by his grandparents Jimmy and Louise Perry.