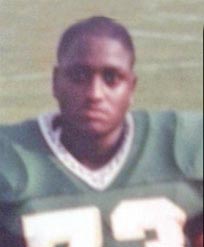 Germayle Franklin
Inducted 2023
Franklin was a gifted football and basketball player at Ware County High School, graduating in 2002. A multi-sport athlete, Germayle played football and basketball all four years of high school while participating in track one year. Franklin was considered a main cog among the gears that produced numerous great teams under head football coach Dan Ragle. His size, quickness, physical strength, and agility made this offensive lineman an imposing figure on the field and his defensive opponents knew they were in for a very long night when they lined up against him. His size and strength on the football field translated to his success on the basketball court as well, playing for the great teams coached by E.B. Price.
Franklin's play on the offensive line proved him to be the best lineman game after game, registering 14 pancake blocks and grading out at a remarkable 89% his senior season. Just how good was Franklin in football? Good enough to be named to the All-Okefenokee Area, All-Region, and All-State teams for Coach Ragle's Gators in consecutive years, 2000-2001. His excellent line play earned him a full football scholarship to Middle Tennessee State University where he excelled.
An anchor on Coach E.B. Price's basketball teams, Franklin's play inside the paint was what we might say physical if not brutal. This offensive football lineman was not going to be moved once he posted inside, nor was he going to let the opponent drive the lane without a struggle. An opponent's drive to the basket was often rudely interrupted by Franklin. His aggressive play on the court helped his 2001 Basketball Gators win the Region Basketball Championship and a run into the sweet sixteen before bowing out.
But it was football that propelled Germayle to college notoriety at Middle Tennessee State University. He played offensive tackle for the Blue Raiders under Coaches Andy McCollum and Rick Stockstill for four years, 2002-2006. And play he did, capturing a team best 31 consecutive starts and holding records for 291 knockdowns from his offensive tackle position, always grading out among the best offensive linemen. His play was good enough to earn him All Sunbelt Conference in 2005 & 2006. He helped the Blue Raiders to their first ever post-season bowl win, The Motor City Bowl in 2006, earning the MC Bowl's On the Move Award. Highlighting his collegiate awards may have been the National Football Foundation Award given to the college football player with the best combination of academics, community service, and on-field performance. Quite the accomplishment! Germayle was on the MTSU track team for two years as well.
After earning his bachelor's degree in Physical Education from Middle Tennessee, Franklin played a few years of professional football for the Tennessee Valley-Alabama Vipers of the Arena Football League. Currently, Germayle and his wife Mylikia reside in Murfreesboro, TN, with their children Jeremy, Kyra, Kalah, and Germayla. They are the owners of Franklin's Fruit Tea which has earned numerous awards including the coveted Rutherford County Best of the Best Award.