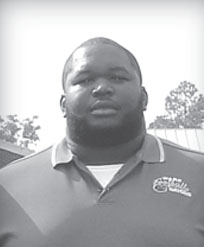 Gerald Anderson
Inducted 2012
Gerald Anderson won four letters in football and in track at Ware County High between 1997 and 2000. He was a three-year starter on the defensive and offensive lines for the Gators earning numerous honors. He was twice All-Region and All-Okefenokee Area at defensive tackle, the position he later played at Georgia (where he earned All-SEC status). His Ware career stats include 203 tackles, 32 tackles for loss and 12 QB sacks. He played in the Georgia-Florida High School all-star football game in 2001. In a game versus Valdosta High in 2000, Gerald accrued 14 tackles, 4 tackles for loss and 2 QB sacks as the Gators won. A Florida newspaper made him the Georgia-Florida Defensive Player of the Week for that performance.
In track, he set the Ware Gator shot put record of 56 feet and 6 inches to help win the team region title in 2001. He placed fifth in the shot at the state track meet as a senior.
At UGA he was starting DT for three seasons and had 132 tackles, 23 tackles for loss and 5 QB sacks. He was among the top five strongest players in school football history with a record setting 710-pound squat max, 520-pound bench press max and 350-pound power clean max.
Later Gerald would serve as an assistant coach at his alma mater, Ware County.
Today he is on the coaching staff at Birmingham Southern.